Everton reveal vision for new waterfront stadium
24 Jul 2019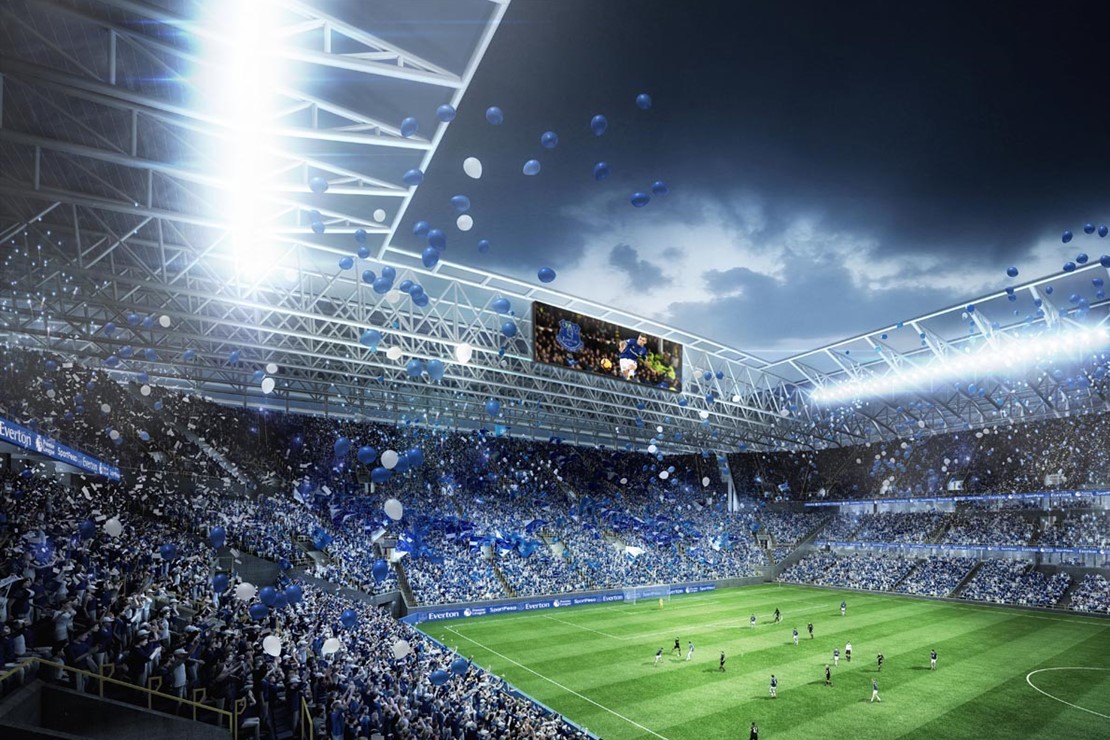 World renowned architect Dan Meis reveals design at fan event
Stadium will act as a 'game changer' for Club and city region
Club to begin month-long consultation period on new stadium and a legacy project at Goodison Park
Everton Football Club today revealed the proposed designs for its iconic new stadium which would be built on semi-derelict dockland in North Liverpool and deliver a £1bn boost to the city's economy.
Images of the stadium were revealed by world-renowned architect Dan Meis at an event for the Club's fans held in a former warehouse at the Titanic Hotel just yards from the proposed Bramley-Moore Dock site which is part of Peel L&P's Liverpool Waters development.
The concepts show a stunning brick, steel and glass design which takes its inspiration from the historic maritime and warehouse buildings nearby. The structure combines the historic and the modern, with the brick base of the stadium incorporating a subtle nod to Goodison Park's famous Archibald Leitch lattice work while the dynamic roof structure made from steel and glass gives the stadium a modern finish.
The stadium is made up of four distinctive stands including a large steep home stand to the south that will house 13,000 Evertonians on matchdays. Supporters will be as close to the action as regulations permit as the Club seeks to capture and amplify the intensity and intimacy of Goodison Park in this modern arena.
The design of both North and South stand lower tiers will make it easy to adopt rail seating and, should legislation change in the future, they could also be converted into areas for safe standing offering supporters optionality and flexibility in the future.
The Club also used the event to reveal its plans for the redevelopment of Goodison Park to create a range of community assets such as homes, health, education and enterprise amenities as well as the introduction of public space which will include a lasting tribute to the Club's current home of 127 years.
The event marked the start of a month-long public consultation into the Club's plans – which have been badged as The People's Project – with the results of the consultation informing further refinements to the proposals.
Following the final detailed design work, two planning applications will be submitted by the Club: a detailed application for Bramley-Moore Dock and an outline application for Goodison Park. These applications are expected to be submitted before the end of 2019.
Prof. Denise Barrett-Baxendale, Everton's Chief Executive Officer, said:
"Today marks an incredibly important milestone for us as we seek to build a new stadium which will act as a 'game changer' for the Club and our city region."
"Our proposed stadium design takes its inspiration from both our city's maritime history and from our Club's rich heritage and traditions.
"It is, first and foremost, a stadium for football, for our passionate fans and for our players. A stadium that gives Everton Football Club a platform for growth both commercially and socially. But it is also a stadium for the entire city and a development which will deliver transformative benefits in terms of regeneration and inclusive growth for the whole Liverpool City Region and for North Liverpool in particular.
"Our plans for Goodison Park, although much more outlined at this stage, fulfil our promise to our neighbours in Liverpool 4 to work together to create something that will benefit the community for generations to come.
"There is still much work to be done to deliver both the stadium and the community-led legacy in Liverpool 4 but we remain on track to deliver these amazing transformational projects.
"I'd like to thank everyone who has supported us so far and especially would like to thank our fans, the residents and businesses around Goodison Park and the people of this city for listening to us, for sharing their ideas with us and for backing us on this journey.
"It is important that people continue to give us their views during this public consultation, so I would urge everyone to visit the exhibition as it tours the city region or go to the project website to take part."
Construction of the stadium, on what is largely abandoned dockland, would be a huge fillip to Liverpool's economy and would kick-start major regeneration in the north of the city, which is one of the most deprived areas in the UK.
Darran Lawless, Development Director, Peel L&P's Liverpool Waters said:
"Liverpool Waters will be home to five distinct and unique neighbourhoods and the interest that a new potential stadium for Everton FC has generated has shone a spotlight on the northern end of our scheme. It's a fantastic opportunity for the whole city and we are delighted that that such a high-profile development will be part of Liverpool Waters' £5 billion project to regenerate 60-hectares of the city's former docks. Everton is a fundamental part of a growing list of high calibre partners that we are working with as excitement around the development continues to grow."
Research carried out by international property consultancy CBRE indicates the proposals would deliver a £1bn boost to the city's economy with the potential for up to 15,000 new jobs generating £34m of income to local families.
Annual Council Tax receipts would be boosted by more than £2.2m and there would be an uplift of up to £1.7m in Business Rate income. It is also estimated an additional 1.4 million visitors would be attracted to the city if the stadium were built.
Earlier this year Lord Michael Heseltine, former Deputy Prime Minister and long-term champion of Liverpool's regeneration, described the Club's plans as a 'golden opportunity to bring lasting change to the north of the city', while a range of private and public sector leaders have expressed their support for the proposals.