First glimpse of Liverpool Waters' incredible new Central Docks District
15 Mar 2017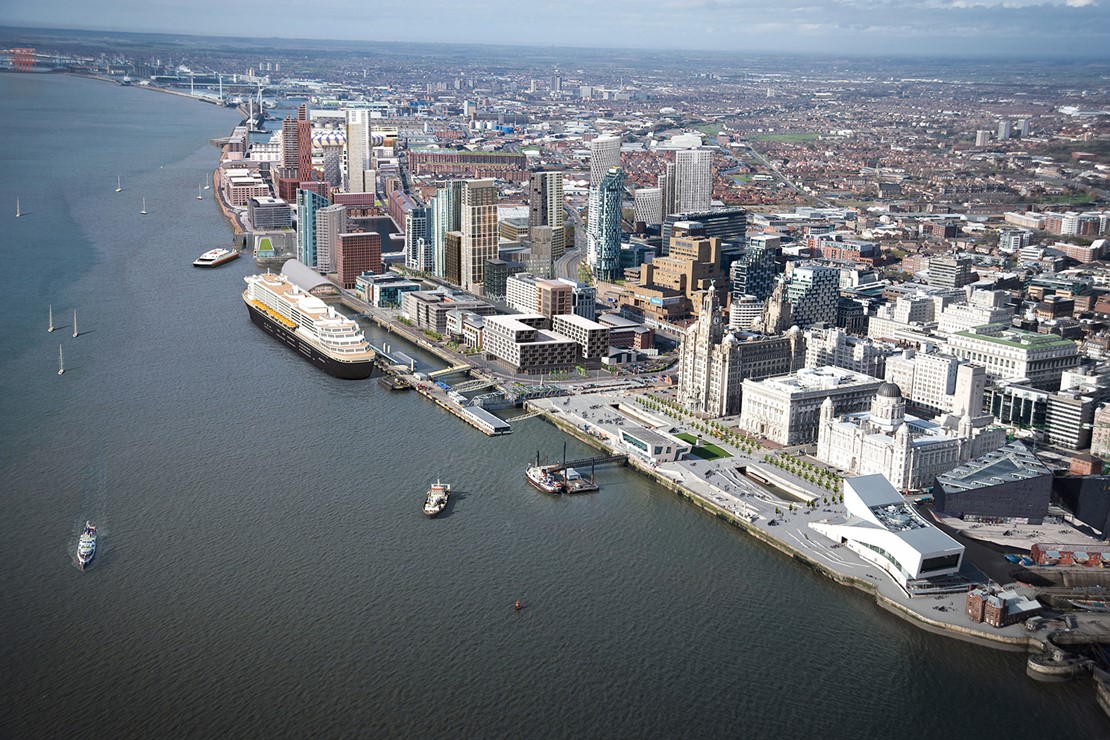 The team behind Liverpool Waters have revealed the first glimpse of the incredible new Central Docks neighbourhood at the property industry's premier annual event, MIPIM, in Cannes, as well as releasing eight new plots there for investor development.
The Central Docks neighbourhood will form part of this world class destination on Liverpool's iconic waterfront and is tipped to be one of the hottest property investments around, with places to live, work and unwind coming together to form a new 24-hour community. This new neighbourhood will bring life back to the former docklands site which has sat dormant for many years.
The £5 billion Liverpool Waters project will transform 150 acres of historic docklands, the biggest single regeneration project in the history of Liverpool and one of the biggest of its kind anywhere in the world.
The eight new plots at Central Docks are already attracting interest from investors and developers, with several parties visiting Liverpool to see the opportunities on offer first hand.
This Central Docks neighbourhood will be a world class business and leisure district, with over 2,000,000 sqft of mixed use floorspace including 750,000 sqft of quality office space, providing occupiers the rare opportunity of a tranquil setting in the heart of Liverpool city centre, and over 1,000 new waterfront apartments in buildings up to 44 storeys high. All of these new spaces will benefit from a 17 acre public park and views overlooking the River Mersey and the Leeds and Liverpool Canal.
Lindsey Ashworth, Director of Development of Liverpool Waters, said:
"Liverpool Waters is a unique opportunity to invest in a world-famous waterfront and it's no surprise that this latest phase of the project has already generated interest from investors and developers.
"Our ambition has always been to create a waterfront for the world, a sustainable environment with stunning views where people and businesses can flourish together. Unveiling this southern part of the Central Docks neighbourhood marks the next chapter in the Liverpool Waters story and brings us one step closer to re-establishing Liverpool's waterfront as a gateway to the world."
Although the masterplan for Liverpool Waters was announced ten years ago, progress has so far concentrated on the Princes Dock neighbourhood, the new home of the Cruise Liner Terminal, with the bulk of effort going on behind the scenes to secure detailed planning permissions. By the end of this year, the team at Liverpool Waters are expecting to see over £300 million of construction work starting on site.
Ian Pollitt, Assistant Project Director at Liverpool Waters, said:
"Central Docks represents a watershed moment for Liverpool Waters. There has been an incredible amount of work done behind the scenes to get us to this point but thanks to the positive attitude of the people of Liverpool, Liverpool City Council and other partners we are now in a position to proceed with this next exciting phase of the project.
"It is great to see so many of the region's leading developers and city leaders joining us at MIPIM to showcase the opportunities on offer at Liverpool Waters and is testament to our shared commitment to re-establishing Liverpool as a global city.
"Liverpool Waters will not only transform the docklands and restore them to their former glory, it will leave a legacy of jobs and skills that will benefit the Liverpool City Region for generations to come."