Green light given to enhance connection between City Centre and Peel's Liverpool Waters development
30 Aug 2020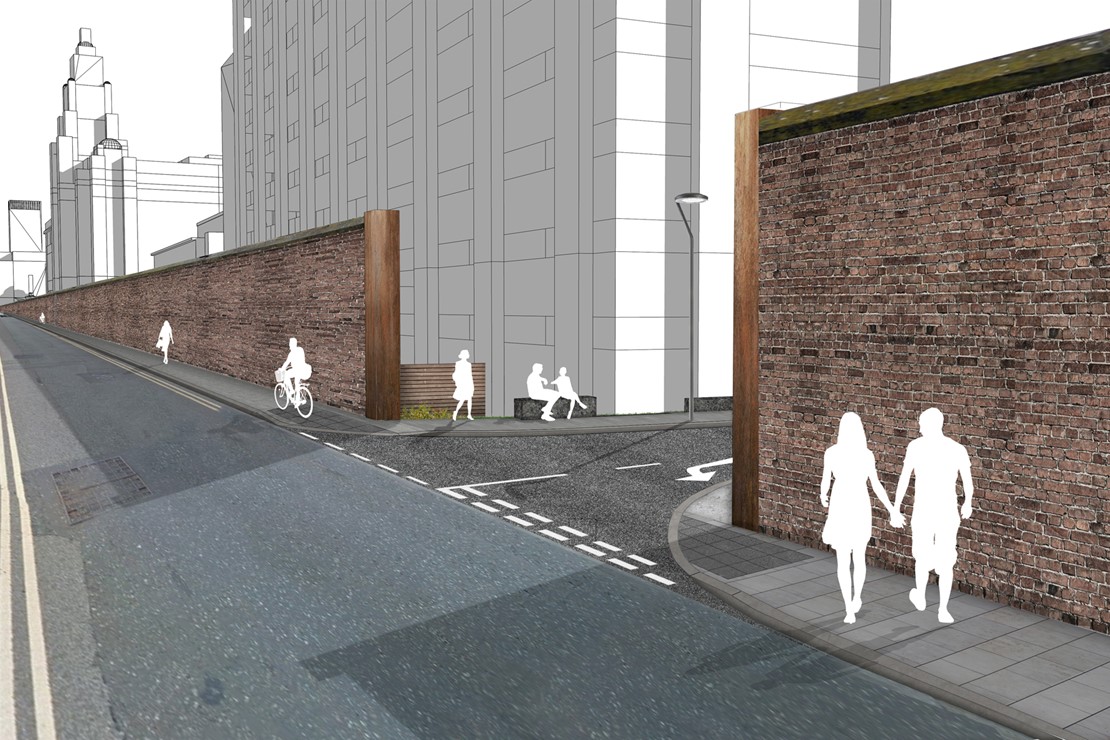 Peel Land and Property has been awarded full planning and listed building consent to construct a new opening in the Princes Dock boundary wall.
Construction of the new opening on Bath Street will allow for greater connectivity between Peel's £5 billion Liverpool Waters development and the city centre. To ensure minimal disruption of the works being carried out, the creation of the new entrance in the boundary wall will take place in two phases.
The first phase will take place during the construction of Princes Dock's three new residential developments and will create a 15.7 metre opening in the wall. This will serve as the main entrance to Princes Dock for pedestrians, cyclists and vehicles during the partial closure of William Jessop Way. However, to minimise disruption for users of Princes Dock, this route will remain open Monday to Friday between 7.30am and 9.30am.
The second phase will reuse the original materials to carefully reconstruct a permanent six-metre opening, which will be a significant improvement on the wall's current pedestrian only entrance. William Jessop Way will then be reopened to the public and the new opening will provide enhanced connectivity for cyclists and pedestrians between Princes Dock and the city centre.
As the dock boundary wall is a Grade II listed structure, extensive discussions have taken place with consultants and stakeholders, including Historic England and Liverpool City Council, to ensure that this new opening and its design is sensitive to the historic setting.
Liverpool Waters' team for this proposal included Arup as planning lead, Planit-IE as landscape architects, Curtins for transport and engineering advice, Walker Sime for project and cost management and Rob Burns, providing heritage guidance.
Darran Lawless, development director at Liverpool Waters, said:


"For this application, it was paramount that we consulted with all our partners and stakeholders from the very beginning, ensuring the important historical nature of the boundary wall was respected and preserved for future generations.


"Working closely with Historic England and Liverpool City Council highlights our commitment to maintaining the boundary wall, whilst making Liverpool Waters, the city centre and indeed the entire waterfront much more convenient and accessible for all those living and working in the city"


"We are doing all we can to ensure that there is minimal disruption for our business occupiers and residents on Princes Dock during construction of the next three residential schemes. It is our intention that once completed, the area will be much more accessible to those who live and work here, as well as the many tourists who visit Liverpool's impressive waterfront.


"One of our key objectives is to make the waterfront much more accessible for those in the city centre, the commercial business district and those in north Liverpool. This new opening is just one of many ways that Peel will deliver this aim for Liverpool Waters, whilst demonstrating the project's commitment to regenerating the area in a safe and responsible way. The majority of the 2 km boundary wall will remain unchanged as part of this proposal."
Ian Ford, senior town planner at Arup, said:
"With the development of three new residential apartment buildings, as well as the construction of a new Cruise Liner Terminal due to commence soon, the current pedestrian opening at Princes Dock is not fit for purpose. This new and improved opening ensures that this work happens as efficiently and safely as possible, whilst maintaining the structural integrity of the boundary wall."