International Canoe Polo Tournament returns to Liverpool
25 Apr 2022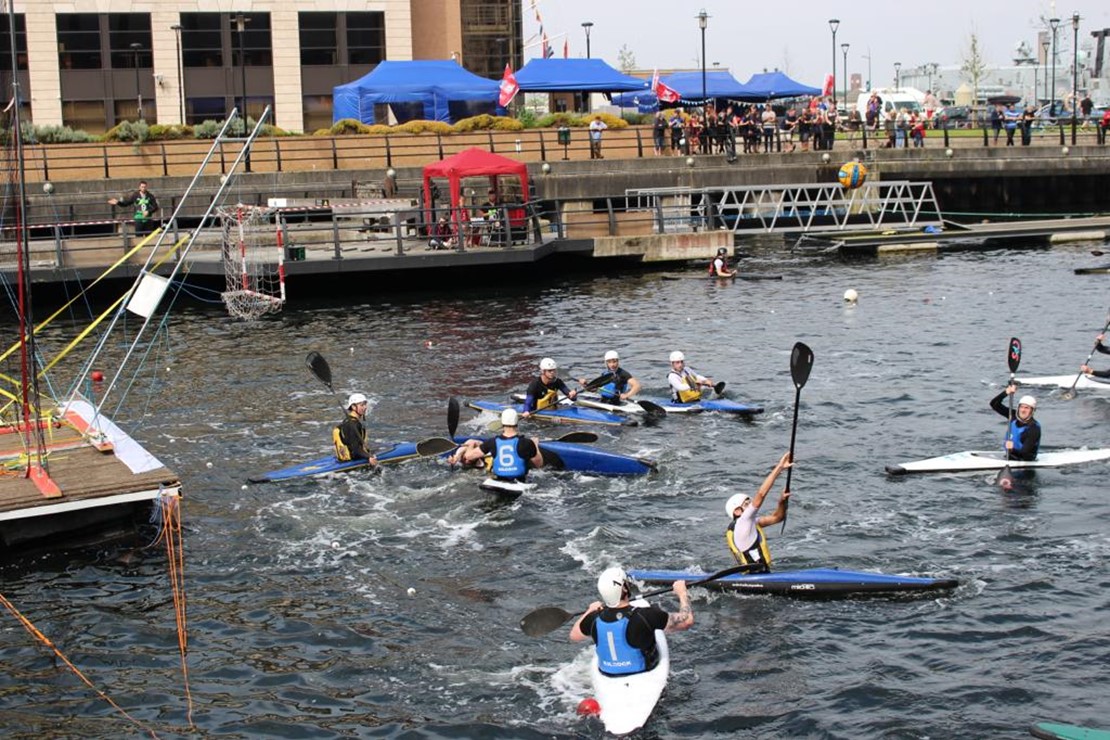 The world of competitive canoe polo will return to Liverpool this summer, two years after the Covid pandemic put a stop to the event. 
The 31st International Canoe Polo tournament, hosted by the Friends of Allonby Canoe Club, will take place on Saturday 11th and Sunday 12th June at Collingwood Dock, Liverpool Waters. 
Canoe Polo is a five-a-side team game played in kayaks and is played competitively around the world. The Friends of Allonby Canoe Club have teams competing nationally and internationally at all abilities, from beginner to elite levels. 
Mike Moffitt, Friends of Allonby Canoe Club Coach, said: "The International Canoe Polo tournament is open to all levels and abilities, and it will be wonderful to welcome the international canoe polo community back to Liverpool again. 
"Our facility at Princes Dock gives us an excellent opportunity to showcase our sport and encourage people to give it a try. As well as the tournament, there will be lots of fun activities taking place throughout the weekend, including introductory sessions in paddleboarding and kayaking. 
"For anyone who wants to give the sport a try, we are also offering general paddling session throughout the spring and summer, on Saturday mornings at 10am and on Tuesday and Thursday evenings from 6pm, for just £5 per session." 
 Last year, regeneration business Peel L&P, which owns Princes Dock and donates the dock free of charge to the Friends of Allonby Canoe Club, announced a two-year extension to their agreement enabling the club to continue using the dock. 
 Liza Marco, Assets Manager at Peel L&P, said: "We are very proud to support the Friends of Allonby Canoe Club, which has been based at Liverpool Waters since 2012. As part of our wider sustainability work, Peel L&P is committed to supporting local organisations which provide benefits to the community. 
 "As well as the Canoe Polo Tournament and regular paddling sessions, we have loads of fantastic events lined up at Princes Dock this summer and it will be wonderful to see people coming into the city again to watch and take part in these events. 
 "We will have public open water swimming sessions with WeSwimRun and scuba diving with Palaemon Divers. Plus, Corporate Games Dragon Boat event (2 July), Level Water 24hr swim (17-18 September) and the Liverpool Waters Dragon Boat event (15th September). 
 "Princes Dock is a fantastic destination with restaurants and coffee bars which have now opened up along the famous Liverpool waterfront, providing a fantastic place to visit and spend the day." 
 Entry to the International Canoe Polo Tournament costs £90 per team, or £50 for youth teams, and includes camping and car parking. Entry closes on Wednesday 1st June 2022. 
 For more information visit www.friendsofallonby.org.uk or see @foaliverpool on Instagram.