Open water swimming facility opens at Princes Dock
23 Jul 2021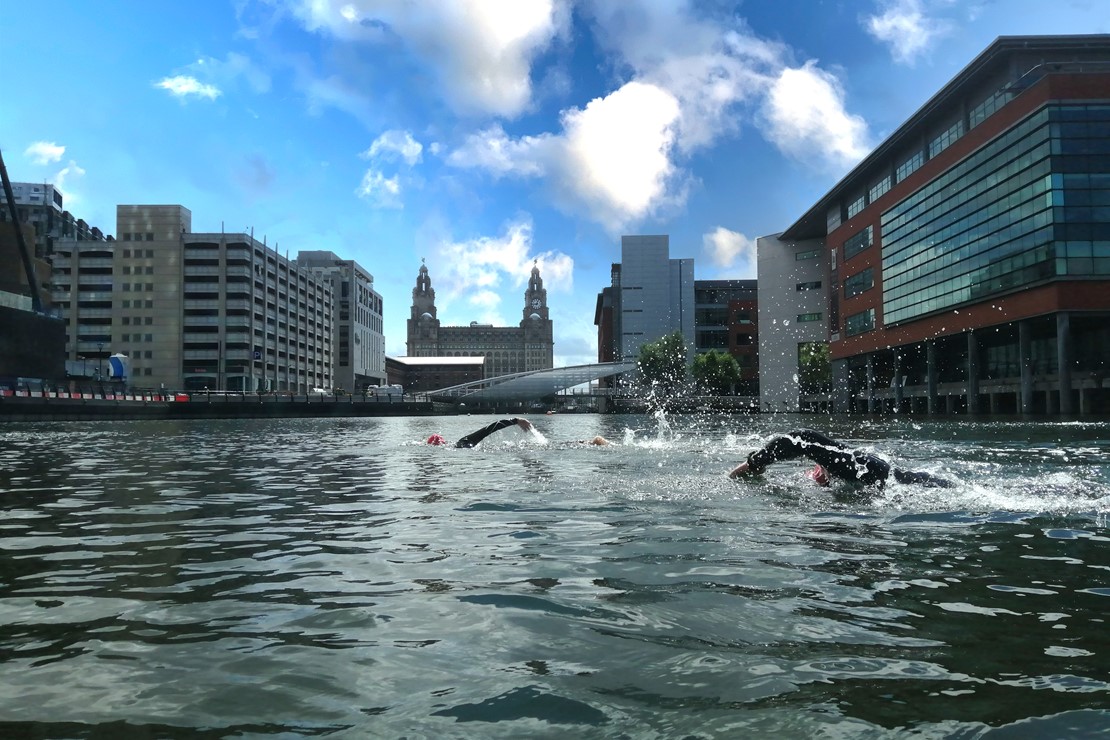 An urban open water swimming facility will open at Princes Dock, Liverpool Waters, this summer providing a unique destination for one of the most popular past times to come out of the Covid pandemic.
WeSwimRun, which organises open water swimming and running events across North Wales and provides coaching in open water swimming, will be utilising the dock to provide an urban swimming facility which can be used by local residents and visitors to Peel L&P's Liverpool Waters.
Public swimming sessions will take place in Princes Dock from Monday 2nd August. Swimmers can buy a monthly pass for £20 giving them unlimited access to all the sessions in August which will run on Monday and Wednesday evenings and Tuesday mornings. An introduction to open water swimming course will also take place every Tuesday in August.at 5.30pm.
The 500m course in Princes Dock will be clearly marked out so that swimmers can swim safely in laps around the dock, surrounded by the impressive backdrop of the world-famous Liverpool skyline and nearby cruise ships. WeSwimRun will also use Princes Dock to host a range of organised events and races.
The water quality in Princes Dock, which is approximately 40% salt water and 60% fresh water, will be tested regularly and aerated pumps will help to keep the water moving.
As well as public swimming sessions, WeSwimRun will host a charity open water swimming event at Princes Dock on Saturday 14th August as part of a UK wide fundraising initiative called Lakes For Level Water. The national event will take place at various open water swimming venues across the UK in aid of Level Water, a charity that teaches disabled children to swim.
Mike Alexander, founder and coach at WeSwimRun, said: "Open water swimming has become incredibly popular during the Covid pandemic as people have sought a release from the tensions of lockdown. It is a wonderful past time and is a fantastic way to escape after a busy day.
"Our new facility at Princes Dock provides a really special location within an urban environment and is surrounded by spectacular views along the waterfront at Liverpool Waters.
"Our public swimming sessions will provide a safe place to learn how to swim outdoors and, for those looking for something more challenging, we will provide a range of events and races for people to get involved in. Our charity event in August would be a great place to start and we have lots of places still available."
Liza Marco, Asset Manager at Peel L&P's Liverpool Waters, commented: "According to Swim England, open water swimming provides a real boost to people's mental health so when swimming pools were close during lockdown, many people took the plunge and started swimming in lakes, rivers and the sea.
"WeSwimRun is opening an incredible facility at Princes Dock, which will provide the perfect place for local residents and visitors to Liverpool Waters to come and let off steam at the end of the day and to experience the exhilaration of open water swimming in a safe environment."
To buy a monthly swim pass or to book an introduction to outdoor swimming session at Princes Dock, Liverpool Waters, visit www.weswimrun.org/liverpool.