Rider Levett Bucknall expansion leads to further investment at Liverpool Waters
16 May 2023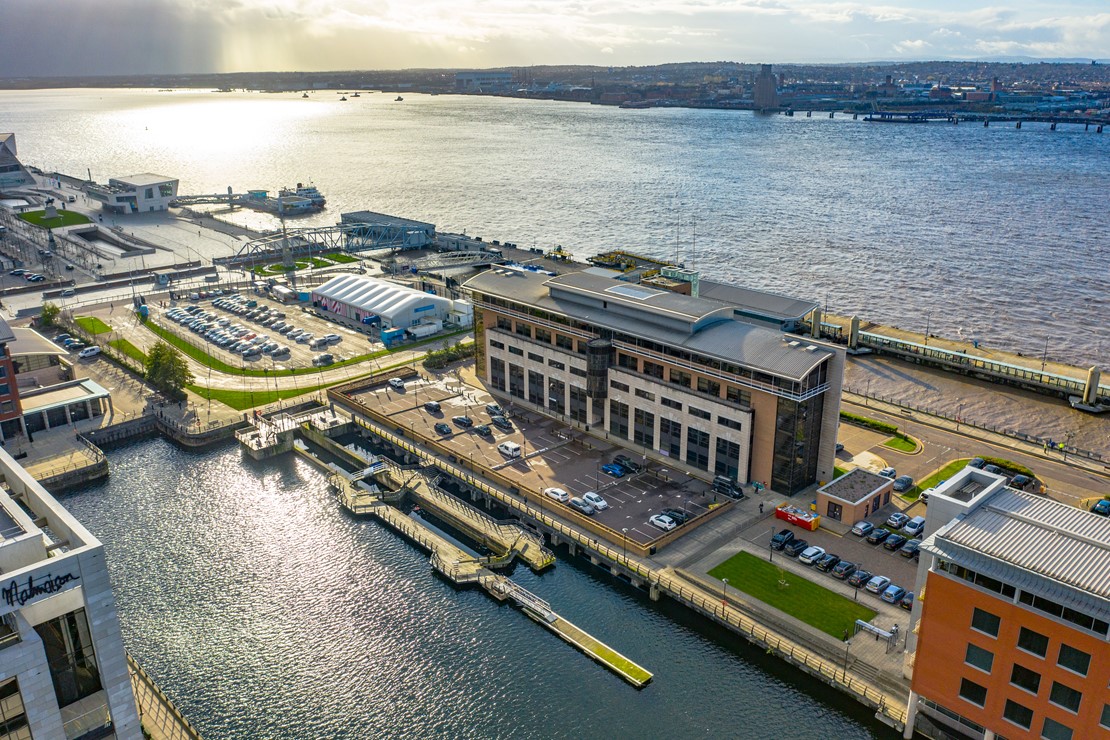 Global construction, property and management consultancy, Rider Levett Bucknall (RLB), has signed a new lease for a larger 4,700 sq ft suite within the thriving Princes Dock neighbourhood at Peel L&P's Liverpool Waters.
The long-standing Liverpool Waters tenant has a team of 1,000 people working across the UK to shape the future of the built environment.
RLB is a key partner in many transformational projects in the North West region, including the new Everton Stadium at Bramley-Moore Dock, and its Liverpool based team has increased by 50% in the last two years.
The business has now signed a lease to move its Liverpool operation to No. 8 Princes Dock to accommodate its growing team and better support them with hybrid working within a multi-function space as well as access to enhanced technology.
RLB's commitment to achieving net zero by 2030 was also a key part of its decision to remain at Liverpool Waters, within an office environment that reflects its goal for a more sustainable future.
The entire commercial estate at Princes Dock has been verified as operationally Net Zero for several years, offering Grade A commercial space connected to the city centre, and surrounded by water, new public realm, café's, bars, restaurants, leisure facilities, gyms and more.
From 2023, the commercial buildings at Princes Dock will also be connected to Liverpool Water's District Heat Network that will provide low carbon, cost effective heat and power, further enhancing its sustainability credentials.
Zoe Rowan, Partner and Head of RLB's Liverpool office move, said: "We are delighted with the growth of RLB's Liverpool office over the last two years, both in terms of clients and colleagues. Our move within Liverpool Waters provides 50% more space to support multi-functional workspaces and accommodate our ambitious plans for future growth and commitment to the North West region.
"The facilities we now have at Liverpool Waters tick all the boxes from an enhanced technology platform to wellbeing initiatives, and its first-class sustainability credentials will help us as we work towards our own 2030 net zero target.
"It's the perfect space for our talented team to collaborate and learn and continue to grow as we deliver for clients on important projects in the region, such as the new Everton Stadium at Bramley-Moore Dock."
Liza Marco, Assets Manager at Peel L&P, said: "High quality and sustainable working environments are currently high up in the priorities of any successful and growing business. Princes Dock has a lot to offer; its Grade A net zero carbon offices, are proving very popular not just with new businesses moving to the city but also with our existing occupiers like RLB who are expanding and so we are delighted to be able to support their growth in our sizeable office offer. With unique access to the water, new public realm, and a growing community of cafés, bars, a supermarket, a nursery and other leisure amenities, Princes Dock has it all right on its doorstep."