Seven Reasons why you should visit Dockside at Liverpool Waters
03 Nov 2023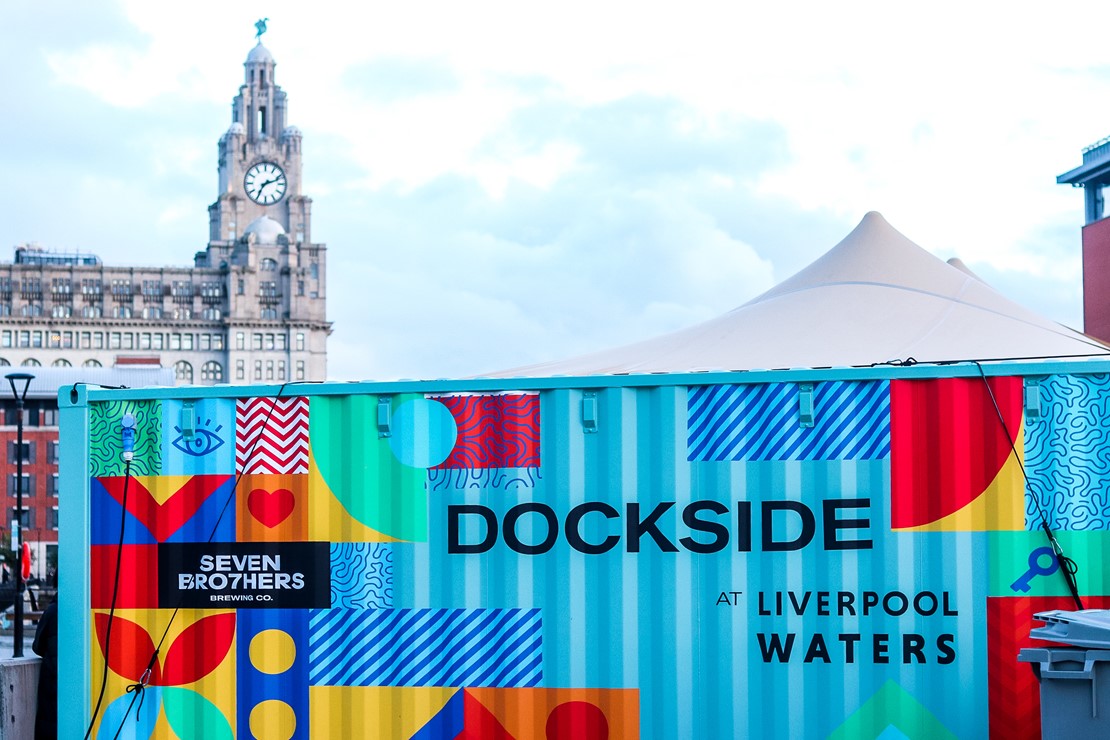 Have you visited Dockside at Liverpool Waters yet? A brand-new food, drink and entertainment hub at Princes Dock - open Thursday to Sunday, from 10am until 10pm - Dockside is not to be missed. Here's why:

Award-winning craft beer – with a great story behind it
Seven Bro7hers beer is special. Brewed by seven actual brothers from Salford – who were inspired by their Dad when he used to home brew back when they were kids – their tap room is based in the city and they pride themselves on ensuring that it tastes really, really good. There's nothing fancy or stuffy about it; they simply want it to be something for everyone that brings people together.
Fantastic waterside location
Being by the water can significantly enhance mental well-being. The calming effect of rippling water has been found to help people switch off more easily, and Dockside is in a prime location to help you do just that! Sit back, enjoy a cold beer and munch on some tasty food options in an unbeatable location.
In good company
Make your visit to Dockside part of a longer beer crawl with friends. Situated in King Edward Triangle – just a stone's throw away from Princes Dock – breweries Carnival and Azvex are open every weekend from midday and Fridays from 4pm (with Azvex also open from 4pm on a Thursday). Check them out on social media – they also host special events including tours, tasting sessions and food trucks from various local vendors - @carnivalbrewingcompany and @azvexbrewing
Amazing live music
Dockside has already seen performances from All The Billies, Drew Connor, Stompin' K Thompson and Adam Dixon, with the fantastic Twisted Tubes playing at the launch night. There is something special about hearing live music by the water's edge, and these talented acts certainly didn't disappoint. There's lots more live music in the store, too.
Delicious food options
There are some fantastic food options available at Dockside – all of them totally delicious! On the menu is a wide range of street food including BBQ glazed pork belly, crispy chilli and soy cauliflower, as well as some totally epic sandwiches! Come down and try the flavoursome, quality grub.
Special offers for one-off events
In Liverpool, there are lots of exciting events taking place on the waterfront and Dockside has some special offers to keep visitors – both those from the local area and further afield – entertained and surprised. With food vendor pop-ups – such as the highly popular Chows Food Truck (offering culinary delights from both Chows Eating House on the Wirral and the much-loved Parkgate Fish & Chips) and extended opening hours, there is plenty to keep an eye out for.
An abundance of culture
There is so much to see and do in and around Princes Dock. With the Liver Building as its backdrop, Dockside couldn't be better situated for you to take in arguably the city's finest building whilst sipping on a cold beer. Across the bridge, there is also a fantastic new sculpture from Eleng Luluan, inspired by the artist's memories of growing up in the indigenous Kucapungane community, a Rukai aboriginal village in the mountains of southern Taiwan. 'Ngialibalibade – to the Lost Myth' takes the form of a giant metal vessel and depicts the legend of the founder of Rukai, who was born from a pottery jar protected by two snakes.

Find out more about Dockside by visiting @LW_Dockside on Instagram.