Strong Liverpool City Centre region delegation heads to MIPIM UK
16 Oct 2018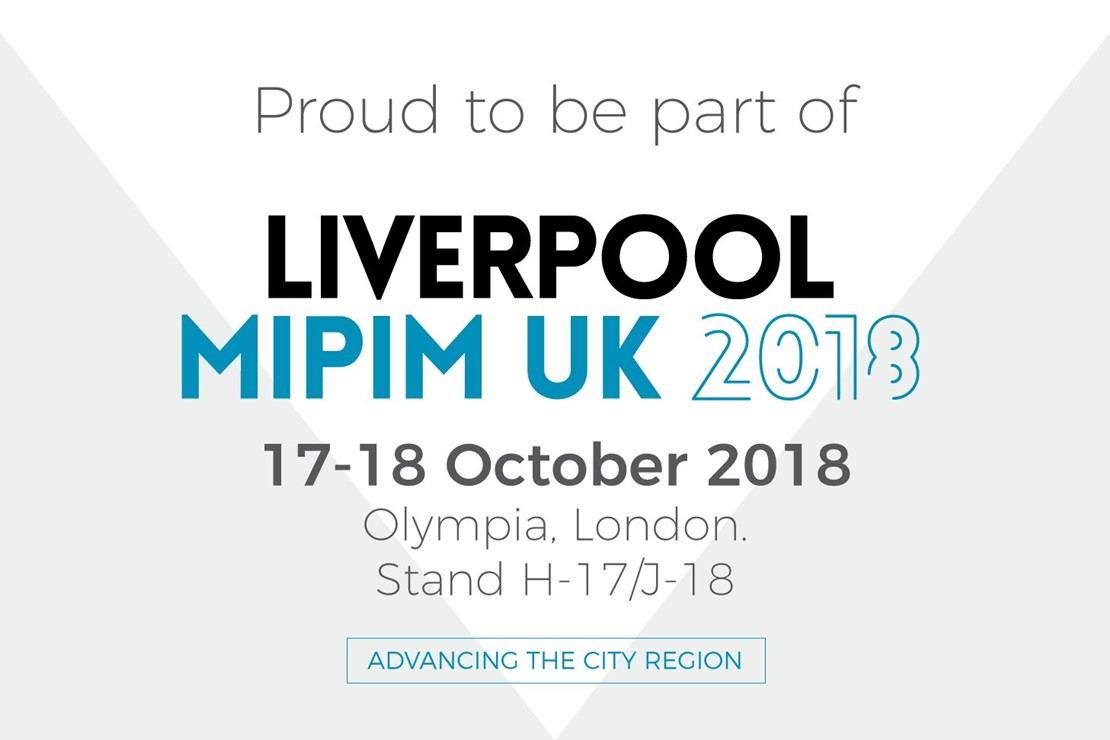 Under the strategic leadership of Metro Mayor Steve Rotheram, a strong private and public sector delegation comprising more than 70 delegates will represent the Liverpool City Region at this week's MIPIM UK property event being held at London's Olympia on 17th and 18th October.
The stand will be co-hosted for the first time with Knowsley, who will be staging on-stand lunch events on both days. The first day's event is titled 'Completing the Shakespearean Triangle' and will feature updates on Shakespeare North in association with Kier Construction, the firm appointed to the build of the major new playhouse in Prescot, while Thursday's is called 'A Prospectus for Knowsley – growth, ambition and opportunity'.
Steve Rotheram will be participating in several high profile panels highlighting how the Liverpool City Region is progressing projects associated with sports-led regeneration, big data and the local and national industrial strategy. He will also take part in a Metro Mayors' think tank alongside Andy Street (Mayor of the West Midlands) and Tim Bowles (Mayor of the West of England) on the subject of generating growth in our city regions.
He will also sit on the panel of a Liverpool Business Showcase, facilitated by Downtown Liverpool, which will take place on Wednesday at 2.15pm and will focus on how to 'maximise the potential of an International waterfront'. He will be joined by Sue Grindrod, Chief Executive of Royal Albert Dock Liverpool and Darran Lawless, Development Director for Liverpool Waters at Peel Land & Property. Following this, Wirral Waters and Wirral MBC will be co-hosting an on-stand event focussing on developments in the borough.
Sean Beech, Partner at Deloitte and chair of the Liverpool at MIPIM steering group, said:
"MIPIM UK is a key event in attracting investment into the city region. Our large delegation of both private and public partners demonstrates the strength and depth of the propositions that we will be promoting such as Wirral Waters, Knowledge Quarter Liverpool and Shakespeare North to name but a few."
Darran Lawless, Development Director for Liverpool Waters at Peel Land and Property and the headline sponsor of the Liverpool 12-month MIPIM program said:
"Following last year's MIPIM in London and this year's MIPIM in Cannes, the Liverpool Waters project has continued to make significant progress and we are excited to share this with industry leaders at the country's largest property event. Construction of three separate residential projects with Regenda, Moda and Your Housing delivering over 700 apartments at Princes Dock is underway. We are also working closely with Liverpool City Council on a new Cruise Liner Terminal and the Manx Government on a new Isle of Man ferry terminal at Liverpool Waters. This follows on from agreeing terms with Everton FC to relocate their stadium to Liverpool Waters with a planning application to follow shortly. Finally, our Central Docks neighbourhood is now taking shape as developer, Romal Capital is making considerable progress on the Quay Central scheme with construction also due to start on Park Central, their second residential building delivering 256 homes at this brand-new neighbourhood.
It is essential that the achievements and opportunities at Liverpool Waters are highlighted and celebrated; attending events like MIPIM UK is just one of the many ways we do this. As well as speaking at the event, I am always interested to learn more about the key developments taking shape across the country, and where any opportunities arise for Peel Land and Property to make new connections in the industry."
Sue Grindrod, Chief Executive of Royal Albert Dock Liverpool, said:
"We're excited to be involved in Liverpool at MIPIM for the first time, and the positive results other private sector partners have reported from attending made our decision to attend very easy. Royal Albert Dock Liverpool is one of the key locations in the city region, equally in demand with leisure, residential and commercial properties. I'll also be representing the wider interests of the waterfront so am particularly looking forward to talking about what we have to offer at the Liverpool business showcase panel on Wednesday."
Based on feedback from partners, Marketing Liverpool, the agency which co-ordinates the city region's presence at both MIPIM UK and the international version in Cannes, launched a 12-month programme for companies looking to be part of the Liverpool City Region delegation. As well as guaranteeing presence at the two conferences, it will bring together the city region's property industry to create closer links between organisations and develop a stronger, unified message to send to potential investors.