Students challenged to design new cultural building for Liverpool Waters
13 Oct 2017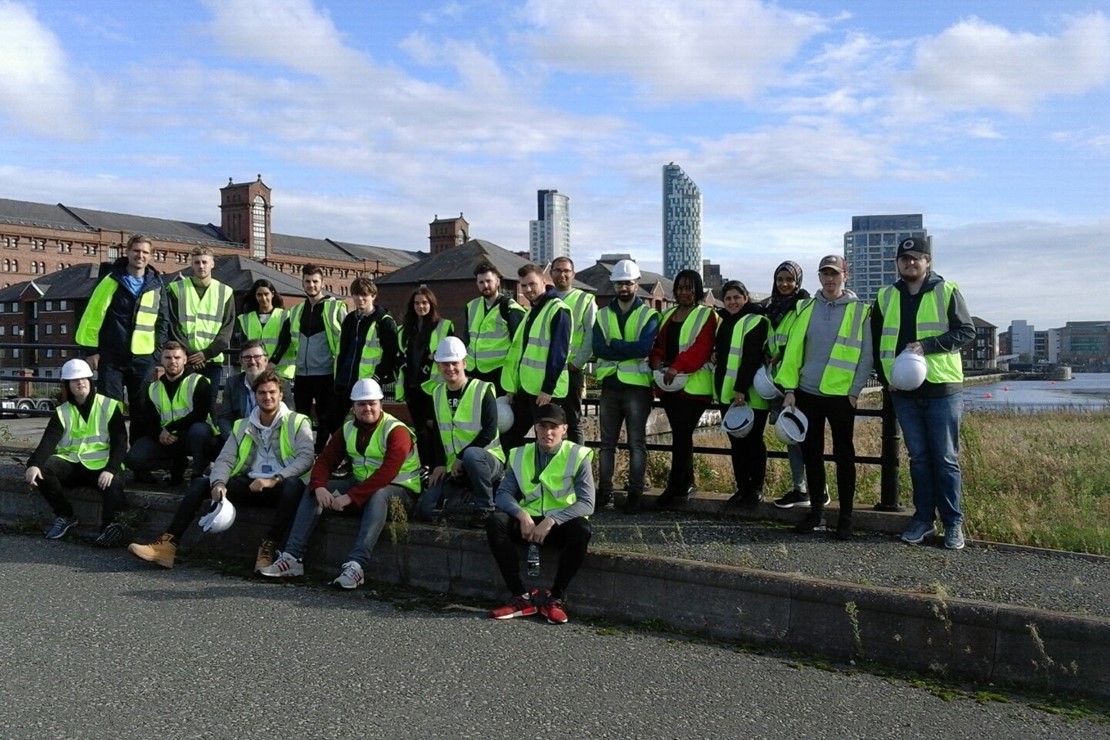 Final year architectural technology students from Liverpool John Moores University have been challenged to design a new cultural building at Liverpool Waters.
The Liverpool Waters masterplan includes proposals for a cultural building in the Central Dock neighbourhood and the students have been briefed to produce concepts for how this could look once it's developed.
As part of the design brief, the students visited the Liverpool Waters site for a tour and discussion about the £5 billion regeneration project which is one of the most prestigious waterfront investment opportunities in Europe. A group of 25 students were joined by two members of staff as they met with Ian Pollitt, assistant project director at Liverpool Waters, for an update on the work going on at the 60-hectare site.
The group also met with Paul Grover from Arup who gave an overview of planning at Liverpool Waters and Peter Swift from Planit who provided an update on proposals for the Central Dock neighbourhood. The group also spoke to heritage expert Rob Burns about the history of the site.
Central Dock is one of five neighbourhoods at Liverpool Waters and will house the new Isle of Man ferry terminal along with business, residential, entertainment and leisure facilities as well as a new public park. The outline planning permission for Central Dock includes an allocation of 3,800 homes, 25,000 sq.m. of restaurants and bars and 166,000 sq.m. of office space.
Speaking about the visit, Michael Farragher, senior lecturer in architectural technology at Liverpool John Moores University said:
"This project is all about getting students out of the classroom to tackle real life challenges and put their skills into practice on a real project. This is the next generation of architects and it's really important that they gain the practical skills that they will need to succeed in their career.
"The new cultural building at Liverpool Waters will be a landmark on our world-famous waterfront and is a great opportunity for our students to demonstrate what they can do. The Liverpool Waters team were really accommodating and I'd like to thank them for taking the time to talk to our group and give the students an insight into managing such an enormous project."
Since the project first got underway in 2007, the Liverpool Waters team has been developing partnerships with business and community groups to deliver ongoing social, economic and health and wellbeing benefits. As well as hosting the students from Liverpool John Moores University, Liverpool Waters has also worked with the City of Liverpool College on major events such as Creamfields Steel Yard and Sound City.
Ian Pollitt, assistant project director at Liverpool Waters, said:
"We are proud of the community work that we do here and this project is a really good example of our engagement programme. It's important to the team at Liverpool Waters to support local organisations and communities as and when we can. We work with all the Liverpool universities to ensure that graduate students can benefit from Liverpool Waters.
The enthusiasm shown by the LJMU students for all things design, technology and engineering was infectious and I'm looking forward to seeing the designs when they are finished."