What is happening at Princes Dock's boundary wall
12 Dec 2018
On 22 August 2018, Liverpool City Council awarded Peel Land and Property full planning and listed building consent to construct a new opening in the Princes Dock boundary wall to provide easier access to the waterfront.
What is the boundary wall?
Built in 1821, the boundary wall that surrounds Princes Dock sits on Bath Street and was developed by the architect John Foster Senior. Standing at 18 feet, the original purpose of the wall was to control access to the waterfront. Now, the wall is mostly cosmetic and due to its Grade II listing status, has remained largely untouched for many years.
In order to provide greater accessibility for those entering Princes Dock, as well as those travelling to the city centre from the area, Peel Land and Property has received full planning and listed building consent to construct a new opening in the wall.
The construction of this opening will be taking place in two phases. The first phase started on 7th October 2018 with the removal of 15.7 metres of wall. This will serve as the main entrance to Princes Dock for pedestrians, cyclists and vehicles during the construction of three residential apartment buildings and the partial closure of William Jessop Way.
The second phase will reuse the original materials to carefully reconstruct a permanent six-metre opening, which will be a significant improvement on the wall's current pedestrian only entrance. William Jessop Way will then be reopened to the public and the new opening will provide enhanced connectivity for cyclists and pedestrians between Princes Dock and the city centre.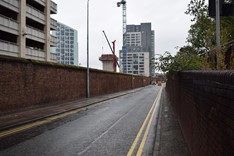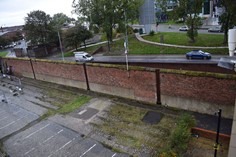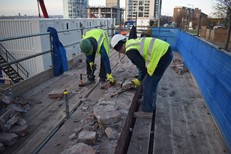 What considerations have been made?
As well as receiving full planning and listed building consent to construct this new opening, Peel Land and Property has worked closely with consultants and stakeholders, including Historic England and Liverpool City Council, to ensure that this new opening and its design is sensitive to the historic setting.
Original materials will be reused wherever possible during the construction of the permanent opening. Furthermore, any materials that are disturbed during the demolition and construction will be removed and stored securely, as set out in the listed building consent application.
An example of this is the wall's stanchions, which are steel vertical beams used to support the wall, originally built as supports for the overhead railway, which was constructed in 1898 and demolished in the mid 1950s . During this work, the stanchions will be removed and stored and a decision will be made on their future use, as part of the adaptation of the boundary wall.
You can learn more about the specifics of this project by reading the full planning application on Liverpool City Council's website, here: https://bit.ly/2Qdm794.